return back to mesh bag
Nylon & Mesh Tote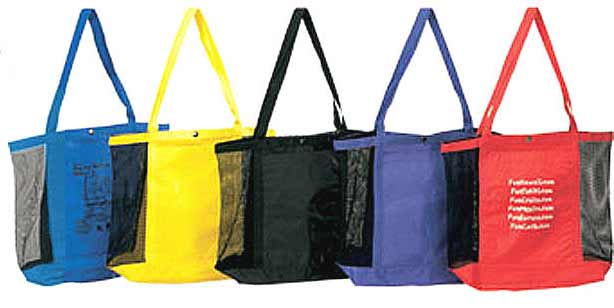 This mesh bag is made of 70 D Nylon with a vinyl backing. It features a front slip pocket, a snap closure on the main pocket, 30" shoulder length carrying straps, and black mesh sides. This bag is designed with several different color options, giving you a great way to accent your custom imprint. Normal production for this bag is 10 working days. For those who need their bags sooner, we created an expediting program to meet rush requests.
The imprinting area is
Front 5.75"W x 9"H

The embroidery area is
Front 4.5" Diameter

We accept artworks in a form of electronic files via email or simply a high resolution clean printout via u.s. mail. Once we process your order your logo artwork paper proof will be faxed to you at no extra cost.
Pre-Production Spec. Samples with your logo, if required, are available for a fee of $50.