All Products
>
Tote Bags
> organic cotton tote bag
---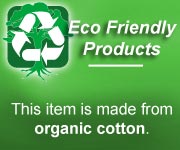 Rope Handle Organic Cotton Tote Bag (T-43)
This bag is made from 10 oz. organic cotton. Organic cotton is cotton that is grown, harvested and processed without chemicals. This stylish bag features an open top providing easy access, and rope handles giving the bag a unique look.

Material: 10 oz Organic Cotton
Approx. Dimensions: 13"W X 14"H X 5"D
Bag colors: Natural

Minimum quantity For logo printing is 50
50
100
300
600

T-43




13"W X 14"H X 5"D

DISCONTINUED
(Still available for orders of 500+)

Special Sale

Printing Discount

First color running charge is FREE regularly $0.84 per bag
bag decoration:
1) Front 8" H X 8" W
2) Back 8" H X 8" W
1) Front 5" Diam.
2) Back 5" Diam.
---
Average Customer Review:
Write A Review
7-2009 promotional items: [5/85]46/420 (T-012)
29@25ct G/1.00 3/2.63 2/3.95 1/5.79 25/15/14 91745CA
wholesale totes
---

Custom Specialties Company

11748 N. 135th Way, Scottsdale, AZ 85259 USA
Phone:

888-551-7155

or

480-
451-3022

Fax: 480-451-3137


Phone Lines are answered from 8:00am to 5:00pm Mon - Friday ARIZONA TIME