All Products
>
Tote Bags
> wholesale cotton bags
---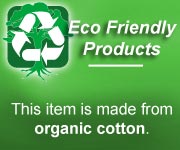 Organic Pastel color wholesale cotton bags (T-58)
This bag is made from 6 oz. organic cotton. Organic cotton is cotton that is grown, harvested and processed without chemicals. This stylish bag features an open top providing easy access, and shoulder length carrying handles. These bags are color-dyed with 100% vegetable dyes providing even more environmentally friendly appeal. And the unique pastel colors provide a great way to draw attention to your custom imprint.

Material: 6 oz Organic Pastel Color Cotton
Approx. Dimensions: 14"W X 14"H
Bag colors: Soft Pink, Green, Soft Blue, Soft Yellow

Minimum quantity For logo printing is 100
50
100
250
500
1000

B/T-58




Pastel Colors

$3.98
/piece
3.54
/piece
3.36
/piece
3.18
/piece
2.98
/piece

Printing Discount

First color running charge is FREE regularly $0.84 per bag
bag decoration:
1) Front 7" H X 9.5" W
2) Back 7" H X 9.5" W
1) Front 5" Diam.
2) Back 5" Diam.
---
Average Customer Review:
Write A Review
d1-2012 promotional items: (1/80) 93/990 B(A519)
28@150ct G/0.11 3/0.31 2/0.48 1/1.08 16/16/13 63935MO
fabric tote bag
---

Custom Specialties Company

11748 N. 135th Way, Scottsdale, AZ 85259 USA
Phone:

888-551-7155

or

480-
451-3022

Fax: 480-451-3137


Phone Lines are answered from 8:00am to 5:00pm Mon - Friday ARIZONA TIME